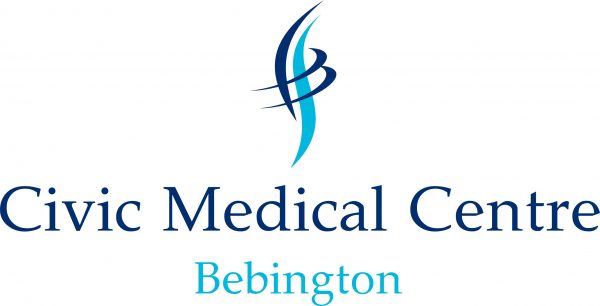 Civic Medical Centre
Civic Way, Bebington, Wirral, CH63 7RX
Sorry, we're currently closed. Please call NHS 111
Telephone: 0151 645 6936
Out of Hours: 111
Latest News (click title to open):
Prescriptions
Repeat Prescriptions
Please ensure you list the items you actually need when you request a new prescription. Patients often request the whole list when only some are needed, which can waste a considerable amount of NHS money.
To order a repeat of your prescription do one of the following:
You may request a repeat prescription by letter, but always enclose a stamped addressed envelope to ensure the request is processed swiftly.
You may also order your prescription at the reception desk.
Online via Patient Access.
Please allow 48 hours, excluding weekends and Bank Holidays, for your request to be processed. Any problems please telephone the surgery. Remember that sometimes your doctor may request that you are seen before receiving a further prescription. This is because they need to check that your ongoing medication is working adequately and not causing you any problems.
Please note that we cannot accept prescription requests over the phone.
Patient Access
If you're registered for Patient Access then you can visit the Patient Access website to order your repeat prescriptions. If you've not registered for Patient Access, but would like to then you'll need to come into the surgery with ID and a member of staff will be able to print an access key for you to access our system.
Patient Access is an online system that connects with the practices clinical system and also enables you to book some appointments at the surgery online. If you can't see an option to order repeat prescriptions from your Patient Access account, then just contact the surgery so that we can change your account settings.
Electronic Prescription Service
If you order your medication online and you have nominated a pharmacy via the electronic prescription service (EPS), then you can collect your medication straight from the pharmacy.
If you have not nominated a pharmacy and would like to know more about EPS, then please speak to your Community Pharmacy of choice.
Prescription Fees
Get help with prescription costs
Prescription prepayment certificates (PPC) are available in England and can save you money.
NHS prescription costs
current prescription charge – £9.35 per item
three-month PPC – £30.25; this will save you money if you need more than three prescribed items in three months
12-month PPC – £108.10; this will save you money if you need more than 12 prescribed items in a year
PPCs are available by 10 monthly direct debit instalment payments. The certificates allow anyone to obtain all the prescriptions they need for £2 a week.
Find out more about the prescription prepayment certificate on the NHS website by clicking the following link: https://www.nhs.uk/nhs-services/prescriptions-and-pharmacies/save-money-with-a-prescription-prepayment-certificate-ppc/
If you need to access the services below, the medicines you're prescribed are free:
medicines administered at a hospital or an NHS Walk-in Centre
prescribed contraceptives
medicines personally administered by a GP
medicines supplied at a hospital or Clinical Commissioning Group (CCG) clinic for the treatment of:
– A sexually transmitted infection, click the following link for more information: https://www.nhs.uk/conditions/sexually-transmitted-infections-stis/
– Tuberculosis, click the following link for more information on  Tuberculosis https://www.nhs.uk/conditions/tuberculosis-tb/
– Or a mental disorder for those subject to a supervised community treatment order (CTO), click the following link for more information: https://www.cqc.org.uk/help-advice/mental-health-capacity/information-people-subject-community-treatment-orders-ctos
Click the link below to find out when to visit an urgent treatment centre (walk-in centre or minor injury unit): https://www.nhs.uk/nhs-services/urgent-and-emergency-care-services/when-to-visit-an-urgent-treatment-centre-walk-in-or-minor-injury-unit/