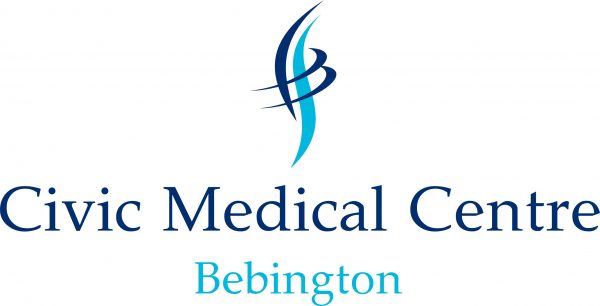 Civic Medical Centre
Civic Way, Bebington, Wirral, CH63 7RX
Current time is 00:22 - Sorry, we're currently closed. Please call NHS 111
Telephone: 0151 645 6936
Out of Hours: 111
Latest News (click title to open):
Welcome to Civic Medical Centre
Welcome to Civic Medical Centre, providing primary care for Bebington and surrounding areas.
We hope you take your time to browse our website where you will find lots of useful information about the surgery and the services we offer.
NHS Digital Data Collection Policy
You may have seen news articles regarding NHS Digital's plans to share your records with third parties. We understand this may raise some concerns, so we wanted to provide you with as much information as possible. There is further information on our website page NHS Digital Data Collection Policy, with links to Opt-Out of data sharing if you wish to do so. The website also provides links to further information from the government website and NHS Digital themselves. If you wish to opt out but are unable to do so online, please view these sites for further guidance on opting-out via telephone or post. This is not something our team are able to do on your behalf.
Important information about the coronavirus (COVID-19) and the GP Surgery
If you have any of the main symptoms of coronavirus (COVID-19), you must stay at home (self-isolate) and get a test. The main symptoms of coronavirus are: a high temperature, a new continuous cough, or a loss or change to your sense of smell or taste. Please be aware that all patients will be triaged before being seen at the surgery and that the surgery is not currently providing all normal services. Please contact the surgery if you need more information.
Appointments
All patients who require a non-urgent appointment with a GP, nurse practitioner or have an administration query/request will need to complete an online e-consultation form (available within our business hours). If you need an urgent appointment with a GP, or if you need an appointment with a healthcare assistant, nurse, or other type of healthcare professional please call the surgery on 0151 645 6936. If you have been invited to arrange an appointment with a GP via a letter or text message from the surgery please call the above phone number. Our receptionists are able to help patients who are unable to complete an e-consultation form.
COVID-19 Vaccinations
We will call you or text you when you become eligible for the COVID 19 vaccine or boosters. Please do not call the surgery about it until you are invited. If you would like more information about the vaccine, possible side effects and safety go to https://www.nhs.uk/conditions/coronavirus-covid-19/coronavirus-vaccination/coronavirus-vaccine/
NHS Patients, staff and visitors must continue to wear face coverings in healthcare settings.
You must still wear a face covering and follow social distancing measures when visiting the surgery. This is to protect those patients who may be visiting appointments because they are unwell and vulnerable, and to protect our staff. More information is available on the NHS website:
Latest News
eConsults 31/12/2021
Our eConsult service will not be available after 12 noon tomorrow due to the New Year Bank Holiday.
eConsult 24/12/2021
Please be aware that our eConsult service will be deactivated from 12pm today due to the bank holidays. The surgery […]
Christmas / New Year Bank Holidays
The surgery will be closed on Monday 27th December 2021, Tuesday 28th December 2021, and Monday 3rd January 2022 for […]
Influenza Vaccinations
If you haven't yet had your influenza vaccination please contact the surgery on 0151 645 6936 to arrange.
Help shape the future of pharmacy services in Wirral – have your say!
Wirral Council wants to hear residents' views on local pharmacy services via this year's Pharmaceutical Needs Assessment, or PNA for […]