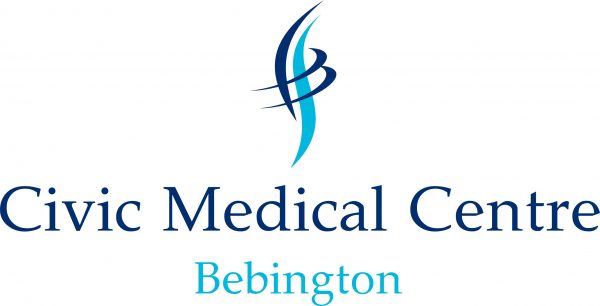 Civic Medical Centre
Civic Way, Bebington, Wirral, CH63 7RX
Current time is 01:53 - Sorry, we're currently closed. Please call NHS 111
Telephone: 0151 645 6936
Out of Hours: 111
Latest News (click title to open):
When We Are Closed
Out of Hours
At weekends and every evening after 18:30 the Wirral GP Out of Hours Service covers your medical needs. This is the NHS 111 number.
There are also the walk-in centres. They provide assessment, treatment and advice for minor injuries and illnesses including:
Infection and rashes
Emergency contraception and advice
Bruises
Burns and strains
Blood pressure checks
Coughs, colds and flu-like symptoms
Sore throats and earache
Hayfever, bites and stings
Minor cuts and wounds – wound care and dressings
Skin complaints – rashes, sunburn, headlice
Smoking cessation support
Stomach ache, indigestion, constipation, vomiting and diarrhoea
Women's health problems, e.g. thrush, menstrual advice
Men's health problems
Muscle and joint injuries – strains and sprains*
Suturing*
X-Ray*
*These services are only available at Victoria Central Walk-in Centre and the Minor Injuries Unit.
For more information about the walk-in centres visit the webpage: http://www.wirralct.nhs.uk/walk-in-centres
On no account should you attend the Accident & Emergency Department unless you experience a serious accident or an emergency situation. The use of this department for minor conditions is an inappropriate use of NHS funds.
Please do not ask to see a doctor out of hours unless you genuinely cannot wait until the surgery re-opens.
Call 999 in an emergency. Chest pains and/or shortness of breath constitute an emergency
Protected Learning Time (PLT)
Along with Practices across Cheshire and Merseyside, Civic Medical Centre will be closed for Protected Learning Time (PLT) from 1-5pm on the following dates:
Wed 21st November 2019 – 1-5pm
Thurs 16th January 2020 – 1-5pm
Wed 18th  March 2020 – 1-5pm
Wed 15th April 2020 – 1-5pm
Protected learning time allows practice staff the opportunity to come together in order to improve team working, as well as explore ways in which the practice can improve the quality of care that we provide to our patients.
During protected learning time closures, Out of Hours (OOH) will provide assistance for those patients who have a medical emergency that will not safely wait until we re-open at 5pm.