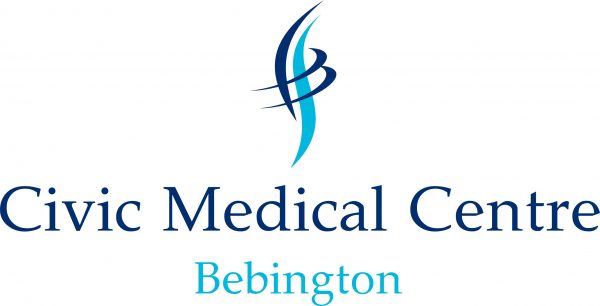 Civic Medical Centre
Civic Way, Bebington, Wirral, CH63 7RX
Sorry, we're currently closed. Please call NHS 111
Telephone: 0151 645 6936
Out of Hours: 111
Latest News (click title to open):
New Patients
Pre-Registration with the practice
We have registration forms available to complete at the surgery. If you'd like to complete the form before you come into the surgery then please feel free to print off the form (GP Registration Form). When you attend the surgery with the form it will help us if you provide proof of residence (e.g. a utility bill) and another form of ID, but you DO NOT need to provide this.
We also ask patients to complete a medical questionnaire to help us know more about them:
Patient Medical Questionnaire (Age 16+)
Patient Medical Questionnaire (Age 0-15)
Practice Boundary
Green Boundary (People living within this area can register with our surgery)
Purple Boundary (Existing patients can remain registered with our surgery if they live within this area)
Homeless
Click the link below to find out how to register with a GP if you are homeless:
how-to-register-with-a-gp-homeless
Asylum Seeker/ Refugee
Click the link below to find out how to register if you are an asylum seeker or refugee:
how-to-register-with-a-gp-asylum-seekers-and-refugees
Ethnic Gypsy, Roma and Traveller Communities
Click the link below for guidance on how to register with a GP: